Gridwall Shelf Brackets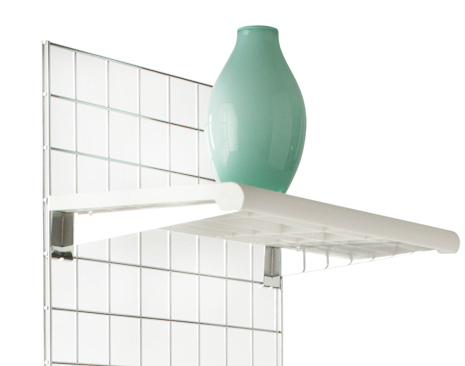 Adding additional shelving space to your grid panels or gridwall fixtures can easily be done by utilizing one of our gridwall shelf brackets.
Our gridwall shelf brackets will snap-on to any grid wall panel that has 3" square grids. Simply snap on the grid brackets onto your grid panel and place the shelf on top of the brackets; The 12"grid wall shelf bracket can hold any shelf that is 12" deep, and the 14" wire grid shelf bracket will hold any shelf that is 14" deep.
By attaching a shelf rest to pre-drilled holes on the gridwall shelf bracket and combining them with clear cushions for the shelf to rest on, you will be able to convert the standard grid bracket into a bracket capable of holding glass shelves.
If you need assistance selecting or have any questions about gridwall shelf brackets, please do not hesitate to contact us and one of our product specialists will assist you.