Gridwall Connectors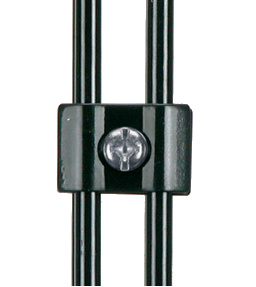 When building a gridwall display grid connectors are a must have to complete the job. We offer a variety of gridwall connectors to help you construct the most functional gridwall fixture. Our wire grid connector clips are available in black, white and chrome finish to match your gridwall panels.
Combining two grid panels when using one of our gridwall connectors is as easy as it gets. Just place the two panels next to each other then place one end of the grid connector on the first panel and the other on the second panel. Once this the two grid panels are connected tighten the middle screw on the grid connector clip and you are done. We recommend three connectors per every two panels that are size 2' x 6'
We also offer grid wall mounting brackets which will allow you to mount the gridwall panel onto the wall. Gridwall mounting brackets are also available in black, white and chrome to help you match the existing grid panels.
If you need assistance selecting or have any questions about gridwall connectors or grid wall mounting brackets, please do not hesitate to contact us and one of our product specialists will assist you.